Watershed's Ocoee Duffel dry bag in 10.5 litres/640 cubic inches covers your waterproofing needs in a neatly organised and stylish waterproof duffel bag. Keeps your gear dry even when submerged.
Watershed's Ocoee Duffel is an essential companion for the well-equipped photographer. The 13-inch wide top opening allows for easy access to your equipment and kit. Makes an effortless airplane carry on, a compact weekender bag or the perfect river day-trip bag.
This dry bag is constructed from a highly durable 420-denier Cordura® ripstop nylon with heavy matte polyurethane finish which makes it easy to clean, UV stable and abrasion resistance. It is waterproof to a depth of 300 feet / 91 m. The bag's seams are RF-welded to give you guaranteed leak protection. No glue was used in the construction of this bag.
Watershed's innovative waterproof closure system, ZipDry® is quiet and makes the bag airtight. You just need to make a S shape with ZipDry® closure to open the bag.
Duraflex side-release buckles and D-rings are combined with heavy-duty nylon webbing to give you the best portability imaginable.
This versatile dry duffel is available in black or orange.
Additional interior accessories for this waterproof travel bag are available to purchase, including a padded liner and and fleecy padded dividers for your photography equipment.
Measurements
Opening size: 13 inches
Weight: 680 Grams 
Dimensions Rolled: 9 inches x 16 inches x 8 inches
Capacity 10.5 Litres
Want to keep delicate camera gear safe inside your Ocoee duffel bag? This made-to-measure liner is what you need!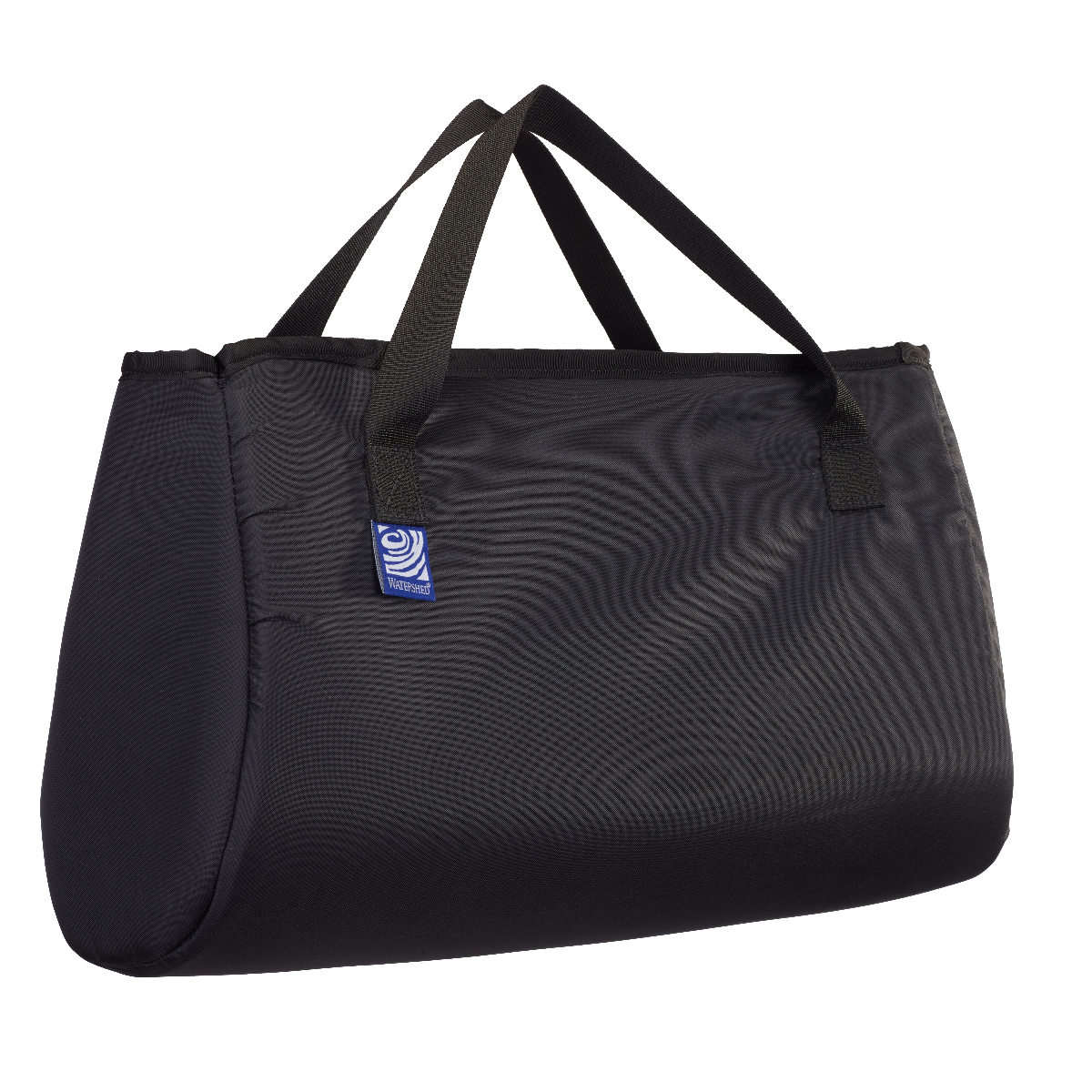 Watershed duffel liners
are designed to fit hand-in-glove inside the waterproof outer. Constructed from a 200 denier nylon and 1/2 inch (12mm) closed cell foam (so it doesn't soak up water like a sponge). The inside is lined with velcro friendly fleece. and velcro receivable fleece interior surrounding 1/2″ closed-cell foam. The inner walls are designed to work with the 
Ocoee Divider Set
. These accessories make the Ocoee Duffel perfect for taking DSLR cameras and video cameras into inhospitable environments. 
Drybags come in a range of waterproof ratings that make them more appropriate for some activities than others. In general the thicker the material the more waterproof and robust the bag, but it will also be much heavier and less malleable to fit into nooks and crannies in boats and kayaks, and packed into larger bags.
Look out for these badges with every product:
The method of sealing the bags is crucial. Some dry bags have two methods of securing them: you fold them over at least 3 or 4 times, click the buckles and then secure with a Velcro strip.
The bags are all rated for waterproofness with a two-digit IP number: Ingress Protection.
The first digit will be a number between 0-6, and indicates the degree of protection from ingress of solid objects (the user themselves, and other potentially harmful particulates such as dust or dirt).
The second digit in an IP rating will be a number between 0-9, denoting the quality of resistance to moisture ingress at varying intensities, angles, depths and pressures of exposure or immersion.
All our waterproof bags have a first digit of 6, meaning: Full protection against dust and other particulates, including a vacuum seal, tested against continuous airflow. The second digits are a 4, 5, 6, 7, or 8.